#TakeBackBlackFriday, #MakeFridayGreenAgain. Buy Nothing Day, Black Out Black Friday, Not One Dime. Or: Black Friday. As we approach the consumerist frenzy that is Black Friday and Cyber Monday, the cries against the biggest shopping week of the year are only getting louder. While there's been well-publicised backlash to this retail mania for a while now, there's something different this time round about these campaigns to check our excess. Maybe it's an awareness of the escalating climate crisis; maybe it's a realisation of the real social and environmental costs of rabid consumption. What's clear is that a transformational change in current processes of consumption and production is needed, and it's needed now.

Black Friday has a long history. There are various different theories explaining its development in the US, ranging from an analysis of the development of corporate marketing tactics in the early 20th-century, to the specific language of police officers in the East-Coast city of Philadelphia. In the UK it's less complex: Amazon transported the American consumerist concept across the pond in 2010, when it began promoting discounts on the same day as it did in the US. It was followed in 2013 by Asda, owned by the American conglomerate Walmart, who similarly offered a discount on a large range of products. A large proportion of UK retailers picked up the marketing tactic. And it's now spread across the world, firmly taking hold in other European countries, and more recently, in India.

The globalisation of an American consumerist phenomenon has come on the backs of a huge shift in how, and how much we consume. The primary beneficiaries of this shift are companies with a large online presence – Cyber Monday, the digital equivalent of Black Friday that is held the following Monday, has now surpassed Black Friday in terms of sales and revenue. To put it into perspective: on Cyber Monday in 2017, Amazon sold over 64 million items in one day. Meanwhile in the UK, average weekly internet sales in November have increased threefold since 2010. On Black Friday last year, we spent £1.49 billion on online retail, while 194 million visits were made to UK-based retail websites. It's only going to get bigger: the retail industry has recently been extending their sales window in order to stretch profit margins. We're moving towards a 'Black Fiveday', with some companies starting their discounts a week before Black Friday itself; others have even gone as far as to discount from the start of the month.

But at what cost? An exacting one, on many levels, for sure. There's the well-documented struggle of the high-street and independent shops, for whom it is impossible to discount at the level that a huge multinational can. There's the social cost in terms of the physical and mental stress documented amongst retail workers faced with surging crowds, brutal working hours and low wages. 12 people have died and 117 have been injured in the retail-related horror scenes that play out on Black Friday and that have circulated in the media: there's even a website to record these incidents. And that's before we start talking about the social costs of production methods. Or the environmental costs of over-production, under-use and subsequent disposal – especially in fashion.
Fashion retailers will be participating in this dangerous delirium of over-consumption. On this Black Friday, we need to think about some of the industry's most shocking statistics. The UK Parliament's Environmental Audit Committee's 2019 report on the state of the fashion industry highlighted that a whopping 77% of corporate leads of 71 major fashion retailers believed that there was a likelihood of modern slavery occurring in their supply chains. And across the full lifecycle of clothing – from the water-intensive production of cotton to an item's needless disposal in landfill – the industry has an annual carbon footprint of 3.3 billion tonnes of CO2.
The kind of fast fashion that Black Friday promotes, that destroys lives and our collective home, needs to end.
Unsurprisingly, then, there's been backlash. Just as the UK adopted Black Friday from the US, the earliest groups calling for a boycott, initially based in North America, have since spread around the world. One of the more famous ones, Buy Nothing Day, had recorded presence in over 60 countries by November 2016. Now we've got campaigns like #TakeBackBlackFriday, run by Eco-Age and Global Fashion Exchange, designed to 'celebrate slower, more sustainable ways of living' – which we should all take this upcoming Friday as a chance to do. In France, a collective of over 200 brands calling itself 'Make Friday Green Again' is refusing to offer any discounts and has committed to donating 10% of their sales to non-profit organisations, joining other brands that, too, refuse to participate in this mass sell-off on ethical grounds. With organisations like this gaining traction across the world, maybe the deep cultural and economic shift needed to transform the basics of our consumption-driven society for the better is already taking place.
How can we boycott Black Friday, especially those of us who enjoy and love fashion? We can do more than just not buying clothes; this boycott is about how we want to live in the 21st century. Eco-Age has some suggestions: wearing an item more than 30 times. Organising and attending clothes-swaps. Buying from local second-hand and vintage stores. And, of course, rental. Renting your wardrobe on the By Rotation app is a way of taking all the environmentally friendly steps Eco-Age and Global Fashion Exchange are calling for. Renting encourages us to keep items, to wear and re-wear, as well as to monetise them by sharing the pleasure they bring with our peers. We thereby operate in a more circular manner: #WhatsMineIsYours is our mantra, after all. And it lets us change and update our outfits in creative and responsible ways. Boycott this Black Friday – rent instead.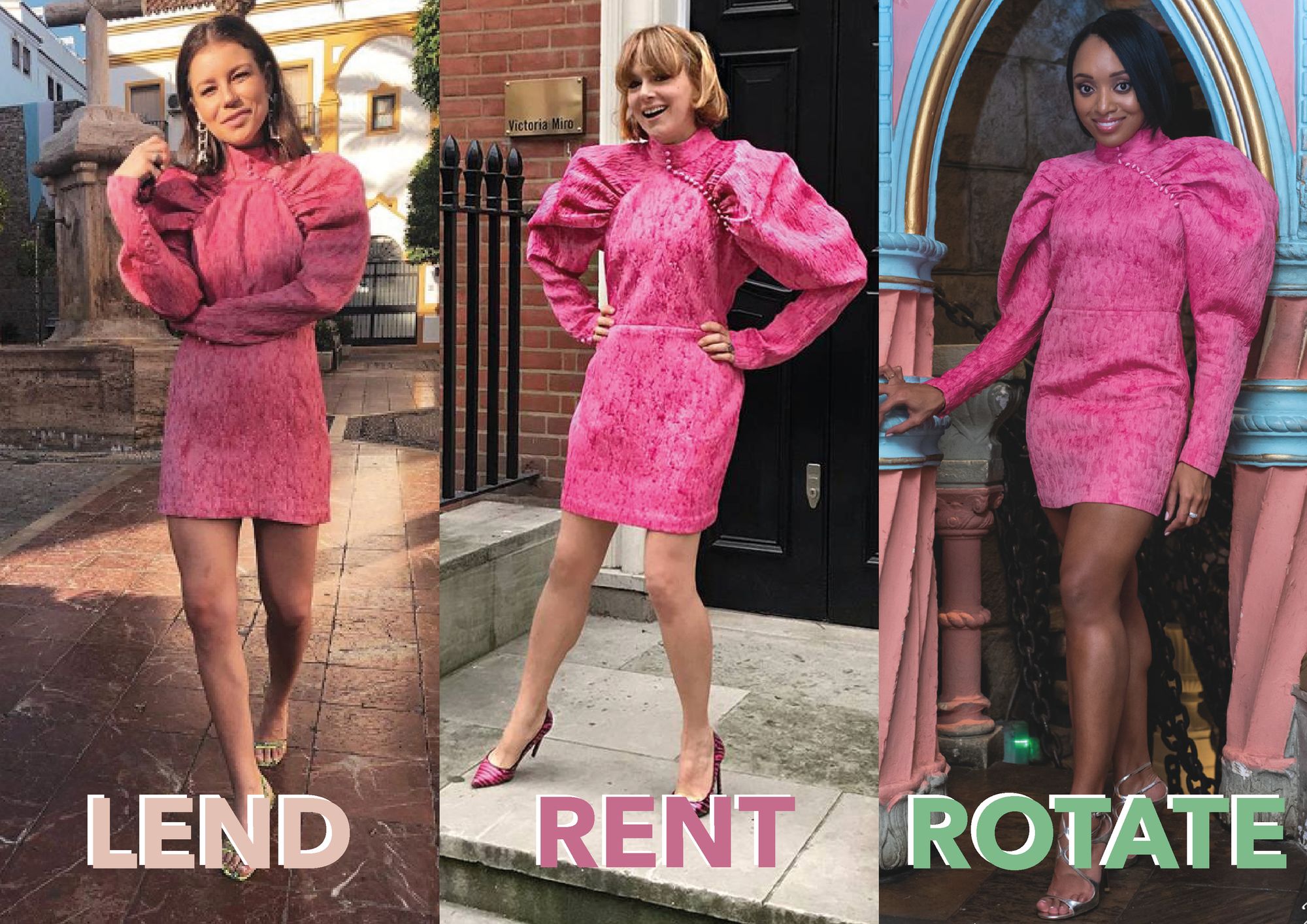 And what better season is there to rent than this one? Black Friday capitalises on traditions of gift-giving, party-going and good-feeling in the upcoming festive season. But buying something for a Christmas party, only to ditch it in the new year is not what the world needs, and is far from sustainable on any metric.

Boycotting Black Friday is about 'greening' the whole way we live. We don't need to panic-buy something we don't actually want at the end of November. We need a healthy planet and a more responsible fashion. Fashion rental is a means of achieving both.
BY ROTATION IS CONTRIBUTING 100% OF ITS SERVICE FEES MADE ON ANY TRANSACTIONS BOOKED DURING THE PERIOD OF 29TH NOVEMBER TO 2ND DECEMBER TO SMARTWORKS CHARITY.


Want to know more about sustainability in the fashion industry? Read Will's article here.
How are you finding the app so far? If you need some help on how to rent and lend, see our quick guide here to help you rotate your wardrobe in under two minutes.
---