What does circular economy mean and can it be implemented in the fashion industry? Will Andrews investigates the term and possible solutions such as peer-to-peer rental.
The Ellen MacArthur foundation, launched in 2010, has as its mission statement the intention to 'accelerate the transition to a circular economy.' Fashion falls within this scope: a whole section of its website and a large part of its research and collaborative work falls under 'fashion and the circular economy.' But what is circular fashion – and can it transform the fashion industry in a manner that might make it conducive to the planet's environmental health?

At the core of all attempts to 'green' the fashion industry is an understanding of its escalating ecological damage. Escalating, because fashion's shoddy environmental record is projected to get even worse. 20 million micro-fibres are expected to be released into the world's oceans by 2050 if the industry continues on its current path. Fashion's projected growth threatens serious social and ecological damage.

Hence the notion of a 'circular economy', championed as it is by many high-profile organisations and fashion industry insiders. The Ellen MacArthur Foundation has a handy video that outlines the basics of the economic model understood by circularity. A quick overview: circularity suggests a total reset of today's industrial and manufacturing process that mimics the earth's natural regenerative cycle. Unlike the current, linear system of production – which functions as repeated processes of manufacture, use and disposal – the 'circular economy' proposes a system based on a loop that is designed to extend a product's lifetime and continually feed recycled resources back in. Single-use products will be no more.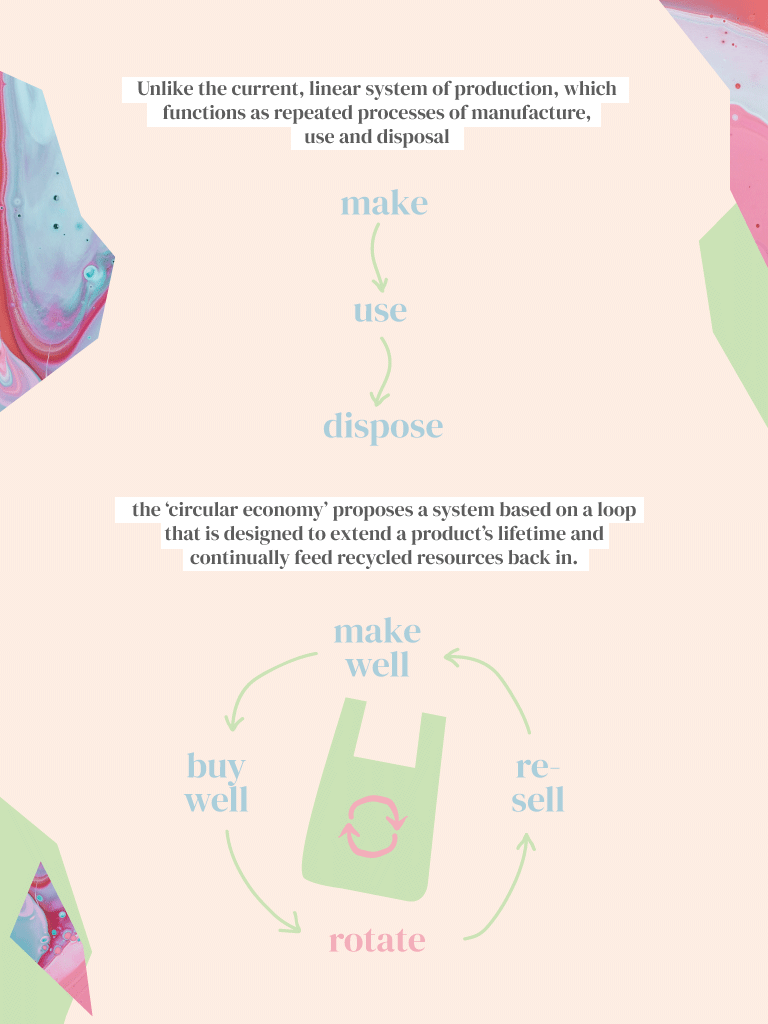 With the contemporary 'fast' fashion industry largely relying on single- or rarely-used items, it's unsurprising that arguments for a circular fashion are making waves. The UN's fashion sustainability initiative, the UN Alliance For Sustainable Fashion, explicitly calls for and supports projects that promote 'a non-toxic circular economy that promotes decent work.' And moves towards circularity are already having a big impact on the way the fashion industry functions with re-sell companies like Vestiare Collective promoting recycling and reuse and brands like Swedish Stockings and MUD Jeans have installed take-back schemes.
What does a circular fashion look like, then? Not only is a circular approach to the fashion industry designed to tackle fashion's enormous carbon footprint, its wasteful disposal culture and deleterious approach to the resources, it also aims to revolutionise fashion for the good. The Ellen MacArthur Foundation holds that circular fashion can increase the availability of high-quality items, promote their continued use and work in a regenerative and climate-conscious manner. No wonder so many are getting on board.

But moves towards circularity, while cautiously welcomed, have also been heavily criticised. As Gulnaz Khasainova noted in Forbes this past June, while moves towards the implementation of a circular economy does serve to make the fashion industry more sustainable, they are far from enough. Not only are not enough major fashion brands interested in far-reaching sustainability practices, projected growth rates for the fashion industry means that circularity within textile manufacture will not halt fashion's planet-destroying tactics. Khasainova calls for a serious slowing-down within the industry, a move away from multiple seasons and excessive overproduction and towards a fashion constituted by repeated wear and pared-back manufacture.

An increased focus on rental has accompanied these critiques of circular fashion. Chantal Fernandez wrote in the BoF over a year ago that fashion rental was a key discussion area when it comes to circularity in the industry. She notes that there are plenty of voices advocating that that we 'consider reframing what consumption means,' a means of transforming how we all participate in the fashion system and clothing consumption.
But I reckon something's being overlooked here. Those calling for a slow fashion of the kind that common understandings of circularity overlook seem to miss what's right in front of them: rental is slow fashion and circular fashion in action, at the same time. Fashion rental moves beyond the ecologically unsustainable notion of exclusively seasonal wear. It challenges an industrial model that promotes the production of items that will be under-utilised and then disposed of. It allows for the sharing of high-quality and sought-after items. In fact, rotating your wardrobe is the real circular process, a process of give-and-take that by nature functions in a circular manner. Participating in a system of fashion rental – especially peer-to-peer, as we at By Rotation do – is facilitating a drive towards a truly circular fashion.
Want to know more about sustainability in the fashion industry? Read Will's article here.
How are you finding the app so far? If you need some help on how to rent and lend, see our quick guide here to help you rotate your wardrobe in under two minutes.
---