It was last summer that my very dear friend got married in Marbella that we stumbled upon a hidden gem via my other favourite sharing economy platform, Airbnb.
A Mediterranean villa on a farm in the hills of Costa del Sol, I decided to return this year with close friends to celebrate my birthday and enjoy the beautiful property, the Andalusian beaches and warm Spanish hospitality.
Scroll further to discover my Marbella diary to save some tips and spots for your visit - there will be a few mentions of my favourite sharing economy companies!
Where to stay: Villa via Airbnb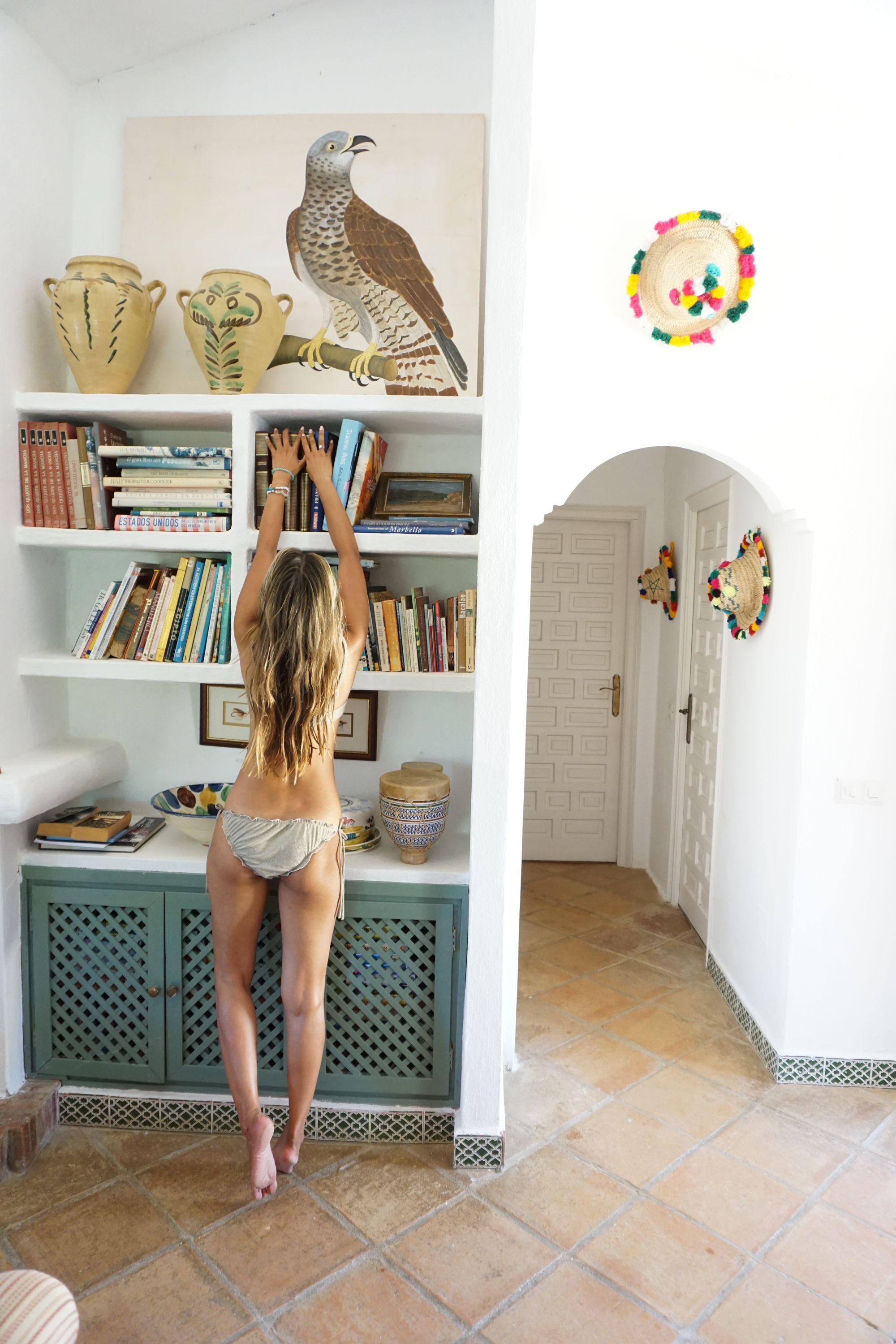 I was over the moon when I discovered the Airbnb "entire place" we had rented was in fact, well, an entire villa. Tastefully decorated interiors with an equally intriguing owner and gentleman who goes by the name George (or Jorge if you like) were bonuses to the lush property and private inviting pool.
What to pack: Trendy holiday rentals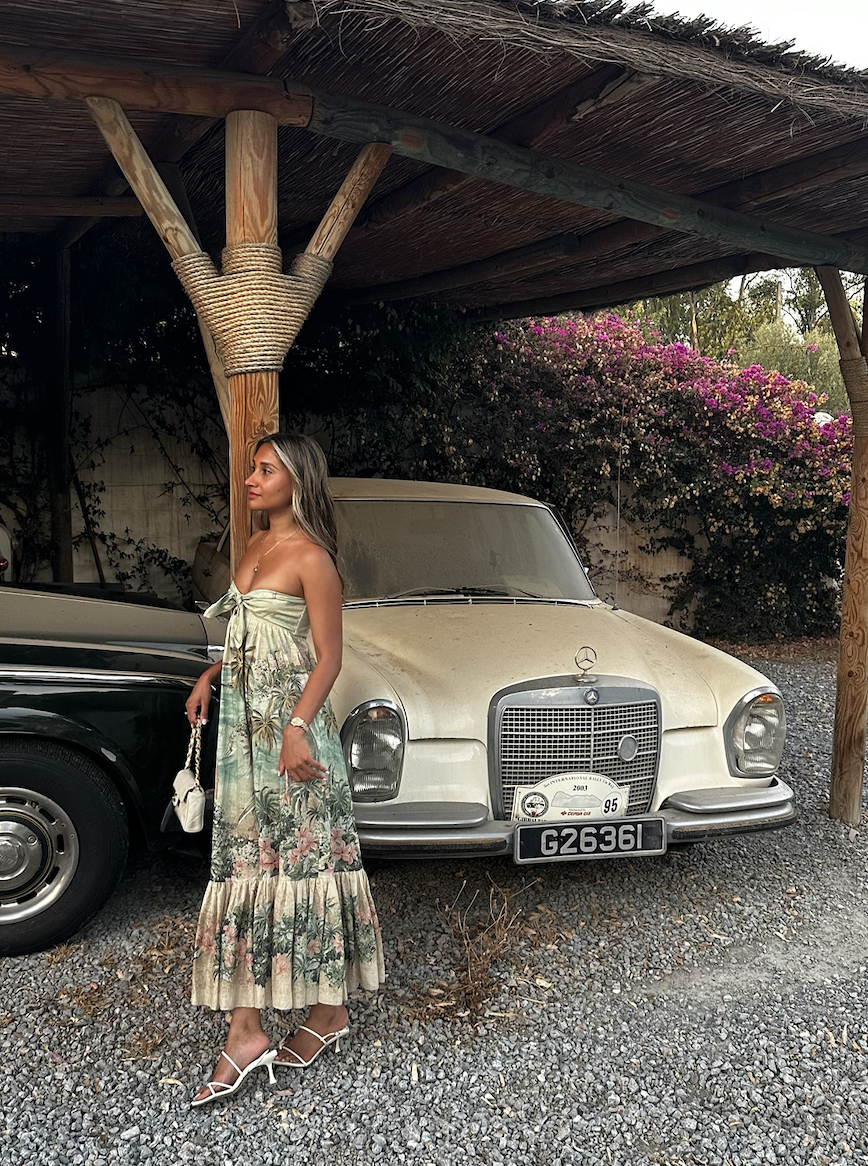 A mix of rented and my own listed pieces, I opted for all colours except for green and pink (giving London Eshita a break!) and top holiday favourite brands: Asta Resort, Chanel, Jacquemus, Loewe, Nensi Dojaka, Missoni, Rat & Boa and Zimmermann.
It was fun to experiment with different styles and colours. I'm still not convinced I can pull of Rat & Boa, but it's always fun to rent because of how popular and sultry their styles are!
For my birthday, I invested in a Zimmermann dress which you can now rent from my profile for your special days. After all.... What's mine is yours.
Where to eat: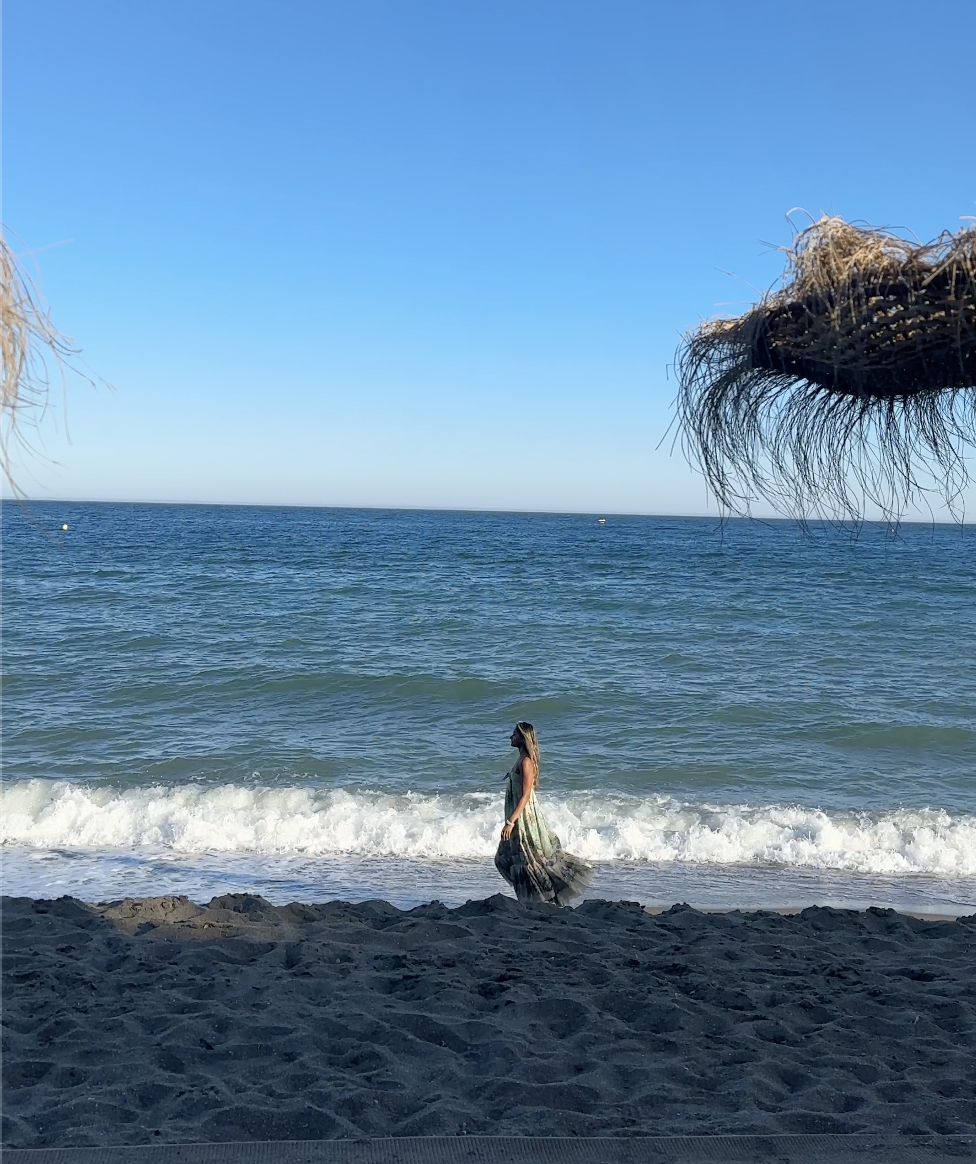 Casanis Bistrot, Old Town
Probably the best restaurant in the Old Town or arguably even in Marbella - one where style does meet substance. I would highly recommend it for a date night, or a group dinner with close ones. Always ask for their specials and a table outside - the people-watching is very gratifying.
MC Beach, Marbella Club Hotel
A private beach club and restaurant with a glitzy crowd. If you're not staying at the hotel, reserve a day bed on the beach, stay for late lunch and work off the meal by paddling on the chopping waves. You might spot a celebrity or two - in my case it was Jack Grealish, the famous English footballer. I'm surprised I recognised him too!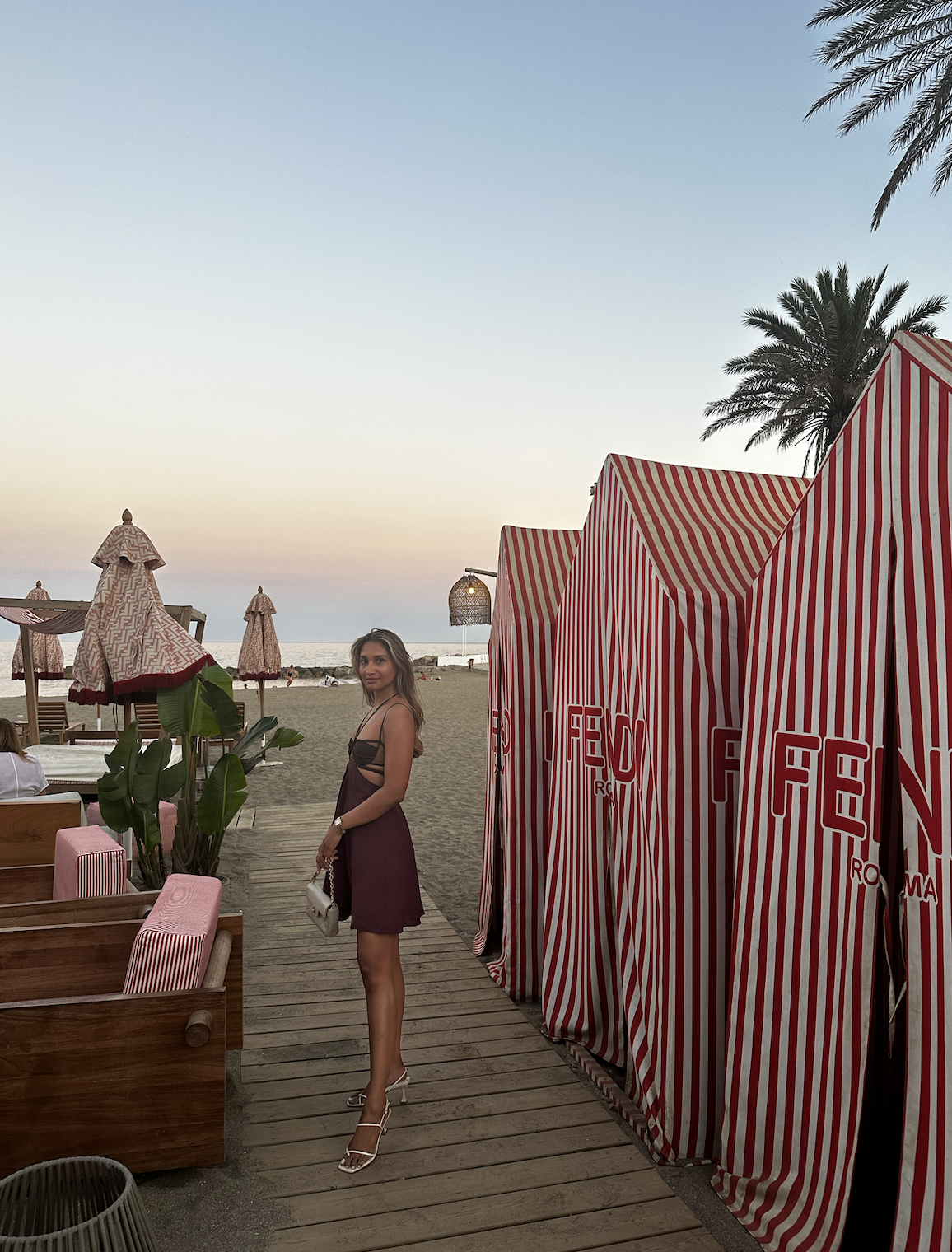 Chiringuito, Puento Romano Resort
Fendi has currently taken over Chiringuito, which is Puento Romano Resort's beach club bar and restaurant. The entire resort is very chic and worth visiting if you're in the mood to dress up. The food at the beach club is decent, I'd recommend heading here with a group for late afternoon drinking and dancing as the sun sets.
Plage Casanis, Playa Real de Zaragoza
A great vibe to watch the sunset and take Instagrammable photos. The food and cocktails were fantastic too - I'd recommend the paella.
Takeaway: Da Bruno
We bought fresh groceries on the first day: fruits, vegetables, eggs, Manchego cheese and ham for the non-vegetarians. For lunch we'd enjoy them with our favourite takeaway: Da Bruno pizzas by the pool with some a glass (or two) of Albariño.
Travel Essentials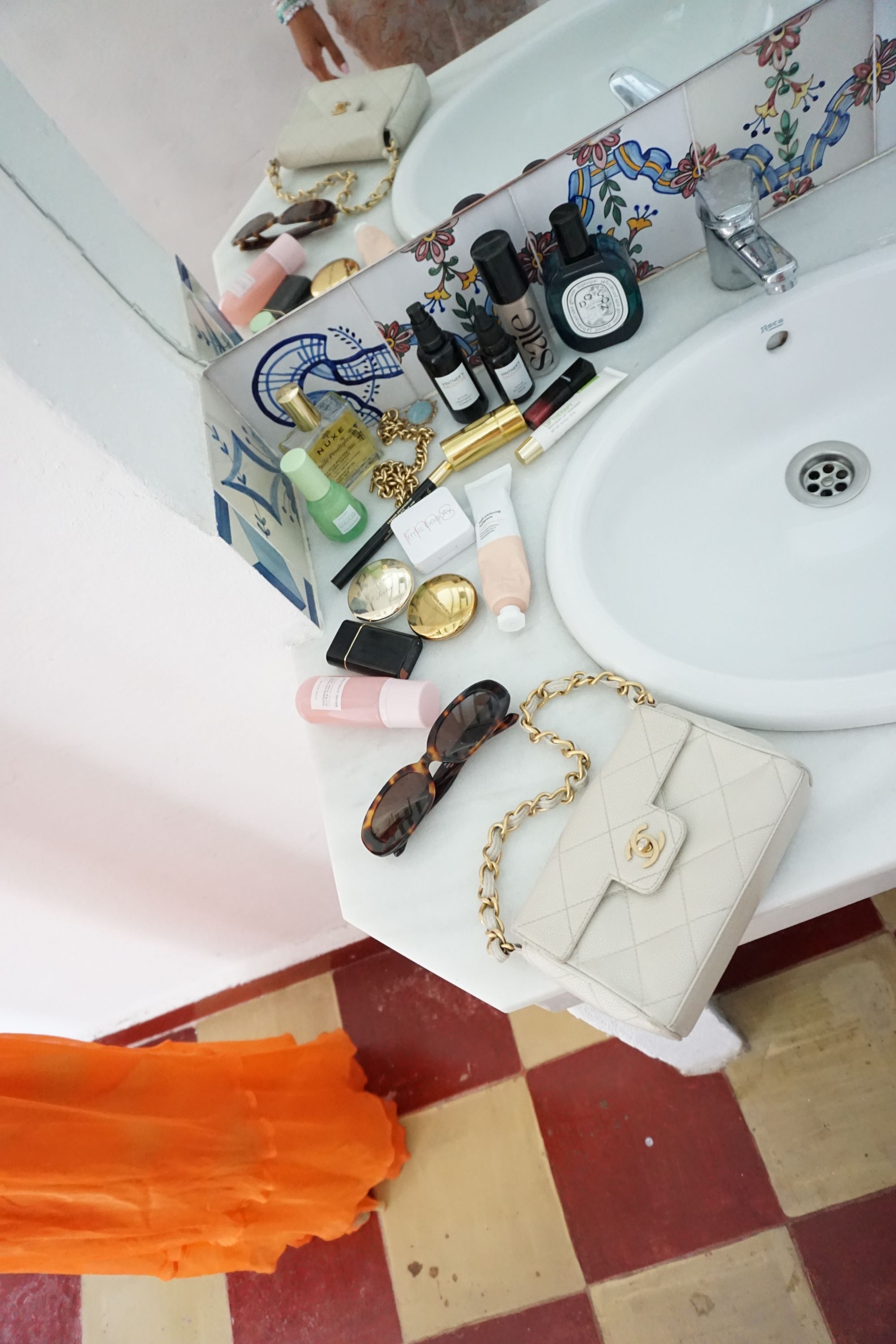 SPF 50 is a must. I tan within 10 minutes, so while I end the day golden - I need maximum protection. I use Nuxe Tanning Oil SPF 50 and Dr David Jack's All Day Long Moisturiser.
Skincare: Vintner's Daughter trio, Glow Recipe Avocado Ceramide Recovery Serum (to decrease any redness!) and Glow Recipe Watermelon Glow Ultra-Fine Mist for that hydration and glowy look. For post shower bodycare, I love to hydrate with Nuxe Huile Prodigieuse Multi-Purpose Dry Oil.
Makeup: Westman Atelier is my go-to; I use their bronzer, illuminator, highlighter, defining pencil, eye shadows, powder and liquid lip balm from their range. When adding colour to my cheeks and lips, I turn to RMS Beauty and Chanel.
Other: I like to always smell of jasmine and/or tuberose, so I always travel with Do Son by Diptyque. Also lip therapy by Goldfaden MD and Linda Farrow sunglasses - always.
For the water babies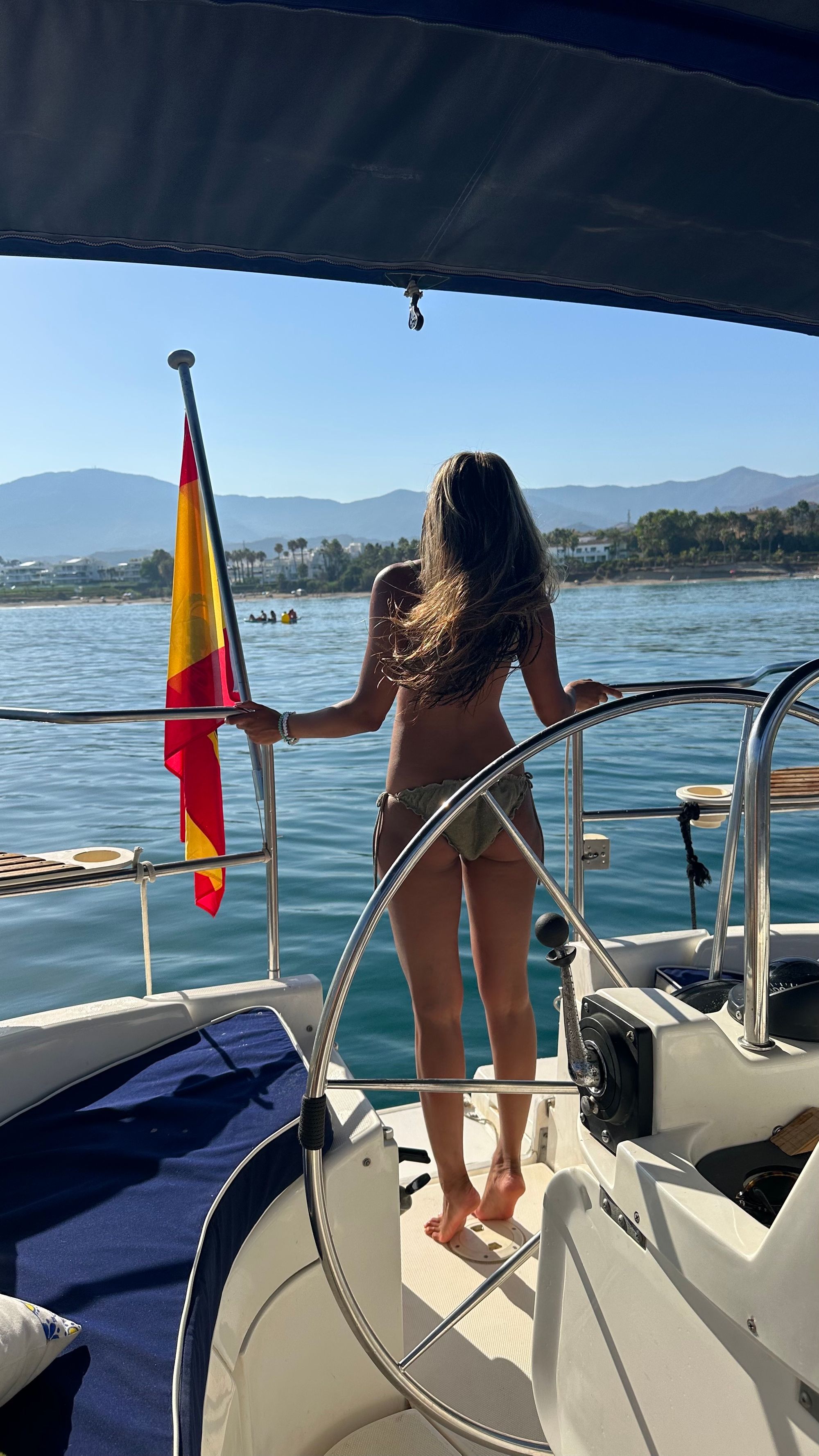 Pool: Having a pool at your rented villa is a huge blessing. We often found ourselves enjoying the farm without any pressure to head out. Sunbathing, reading and laughing with friends was the perfect respite. I even learned how to dive - finally!
Beach: I absolutely love being in nature, it's the anti-thesis of being in the big old smoke after all. We had hiked and swam in a stream in the mountains for my birthday, and then paddle boarded at the beaches. The choppy waves are the fun bit!
Boat: We hired a sailboat from the sharing economy app Click & Boat for half a day with our friends and headed towards the quieter Estepona. You won't get the same clear turquoise waters or colourful fish as you would in the Balearic islands, but you might be lucky enough to spot some dolphins!
Travelling with friends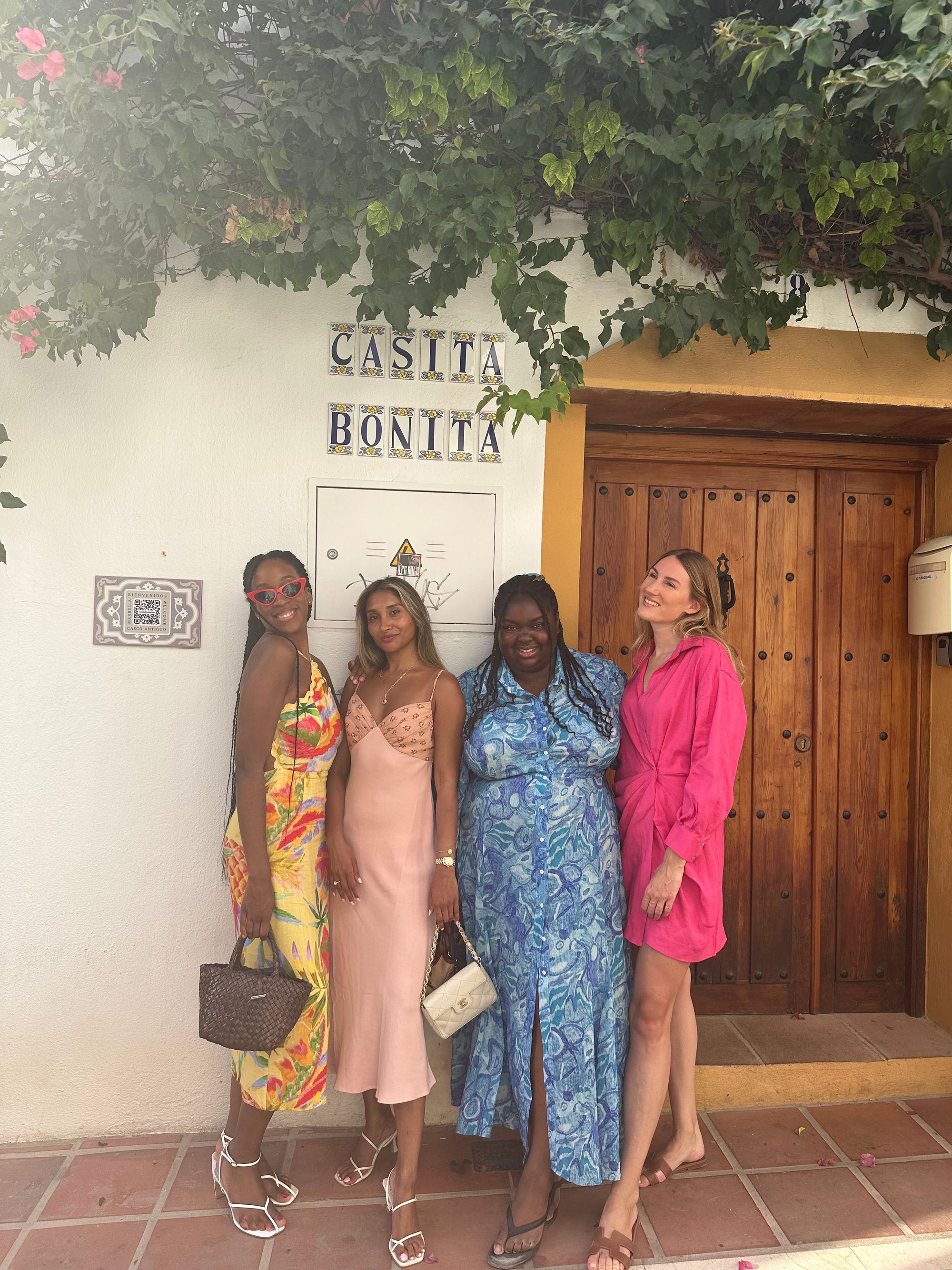 I was lucky to be joined by 4 of my dear friends on my birthday trip, some of whom you might recognise from the By Rotation app. The best parts about holidaying with a small but lively crew are that restaurant reservations are available without much fuss, Ubers are not difficult to organise, and activities and conversations are varied. Lasting memories were created and friendships were deepened.
---