Your wardrobe is on our wishlist!

As we spend more time at home again, there is no better time to list you wardrobe on the By Rotation app and start monetising your items! Some of our top lenders make up to £600 a month by rotating their closet. The good news is that it only takes a couple of minutes to upload items and you keep full flexibility on pricing and dates.

For a limited time only you can earn app credit to put towards your next dream rental by listing - a win-win situation if you ask us. If you've been rotating for a while, you'll know you can rent the most incredible pieces from brands such as Jacquemus, Rixo, Ganni, Daily Sleeper and more with your earned credit!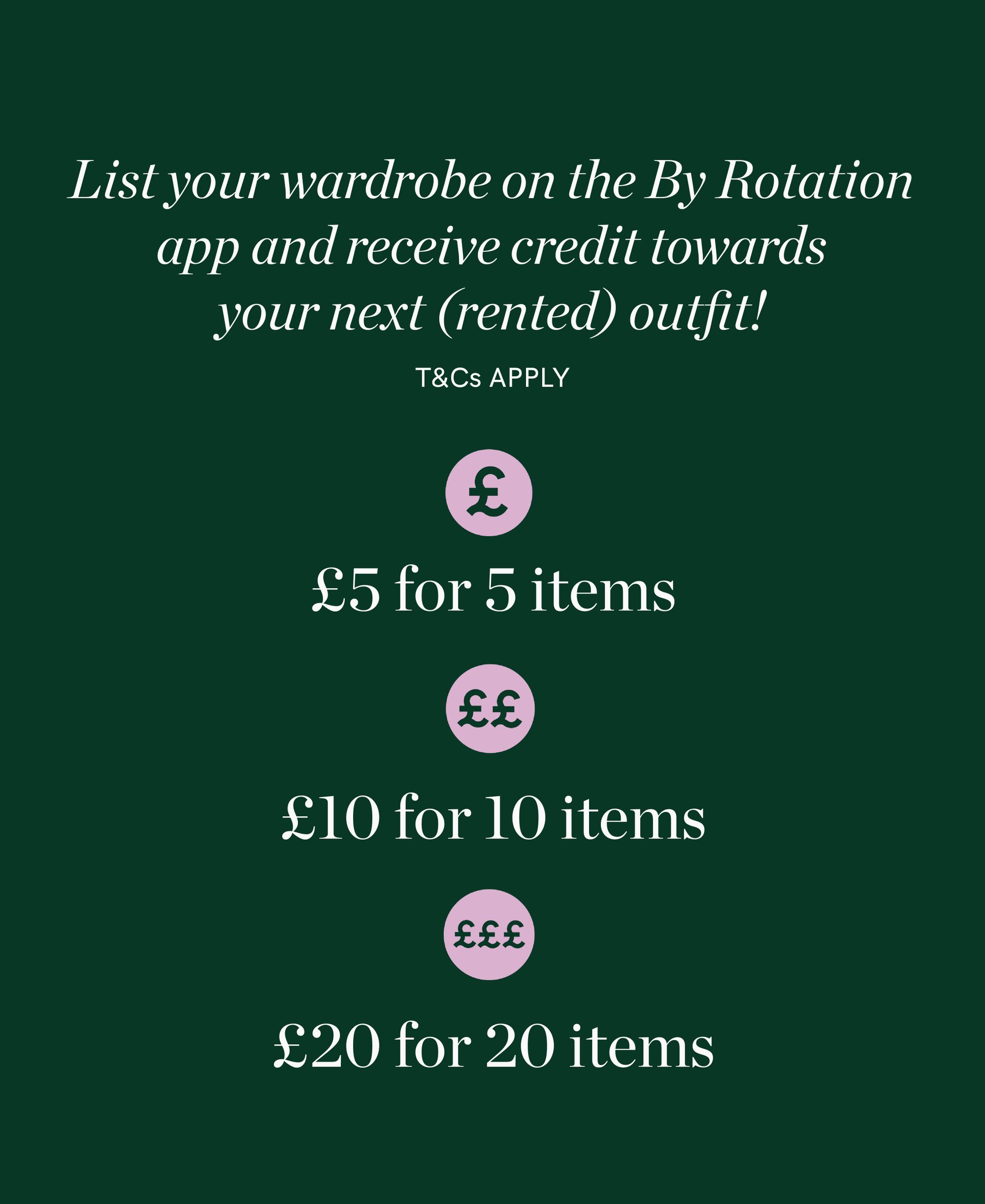 Ready to start listing? Here's our guide to get your started and some tips on how to take the best photos for your listings.

Terms & Conditions Listing Reward Scheme:
1.Entry
1.1 Each individual is only entitled to create one profile (same name, same email address).
1.2 By Rotation will reject entries that are non-compliant.
1.3 This reward scheme will end at midnight on January 31st 2021.
2.Eligibility
2.1 In order to be eligible for credit, each participant in possession of a user account on the platform shall deposit at least five (5) new items on the app between January 13th, 2021 and January 31st, 2021.
2.2 Listed item(s) shall not be withdrawn from rental during the competition period, and must remain on the platform for a period of at least 3 months.
3.Item quality
3.1 As a mid to up market fashion rental platform, we do not allow any high street labels, unless they have items from an exclusive collaboration (for example: H&M x Isabel Marant). Often these items are above the £75 mark or are made by less accessible/boutique brands. In terms of category of items, we only allow fashion items that are non-personal, swimwear and lingerie are excluded from this.
3.2 By Rotation reserves the right to pause or remove any listings which do not meet the standard required for rental. Any paused or blocked listings will not count towards the new item tally.
4.Awarding credit
4.1 Credit will be added to the users's profile (if the items are deemed valid for rental as per above conditions) within 2 weeks of the scheme ending.
4.2. Credit will be valid to spend on the app until end of April 2021.
4.3 Credit is non-exchangeable and non-refundable.


Read more on how to take the best images for your listings.

Want to read more from the experiences of other lenders? Read our interviews with three top lenders here.

---